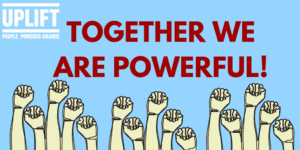 Will you chip in to support people powered campaigns?
Thousands of people have already chipped in to help make it possible for everyday people to start and win their own campaigns. Can you chip in to help power MyUplift?
Support MyUplift
🔒 By donating you agree to Uplift's Terms of Use, Data Protection Policy, and Donation Policy. Uplift does not accept individual donations greater than €99 at any one time, in accordance with rules set out by the Standards In Public Office.
Prefer Paypal? Chip in with PayPal here
You can also send a cheque or postal order to Uplift, 28 North Great George's Street, Dublin 1 or call 01 513 3043 to donate over the phone.