Pascal Donohoe, take the tax
30.08.16
Update 2.09.16: 
Uplift member, Snow White, delivered the open letter to the Irish government today. They may have moved toward the appeal for now – but we're certainly not going away!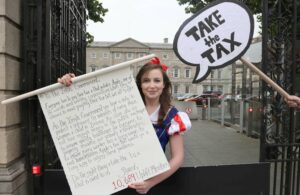 Apple has just been told that it owes €13 billion in unpaid taxes to Ireland. [1] That's €2,800 for every man, woman and child in Ireland. That's an end to hospital waiting lists, homelessness and overcrowded classrooms.
But they're trying to weasel out of paying us what we're due and they're making Finance Minister Pascal Donohoe do their work for them. We need to work together to urgently remind him that his job is to protect us not wealthy corporations.
All of us pay what we owe - teachers and nurses, mums and dads, waitresses and carers, pensioners and students. Together we need to make sure Pascal Donohoe knows that he must not appeal the decision that Apple owes us €13 billion.
Apple will be threatening all sorts in the coming days. But, here's the thing – they aren't going anywhere. Even without the 'sweetheart deal' they've managed to squeeze out of Ireland – they still do very well out of us and won't want to pull out of Ireland. [2]
The Irish government says they don't have the money to fund what we need for our hospitals, schools, public transport and social housing. Apple's tax bill would go along way to solving this problem.
If we act fast we can use people power to drown out the naysayers lining up to explain away why Apple shouldn't have to pay their tax bill.
Uplift members stand for fairness and justice and by working together we can make sure Pascal Donohoe understands that his job is to protect us and not Apple.
---
NOTES:
[1]
'Commission says Ireland granted undue tax benefits of up to €13bn to Apple' RTE News and
'EU orders Apple to pay up to €13bn in Irish taxes – business live' – Live updates from The Guardian.

[2] 'Start a business in Ireland', Enterprise Ireland